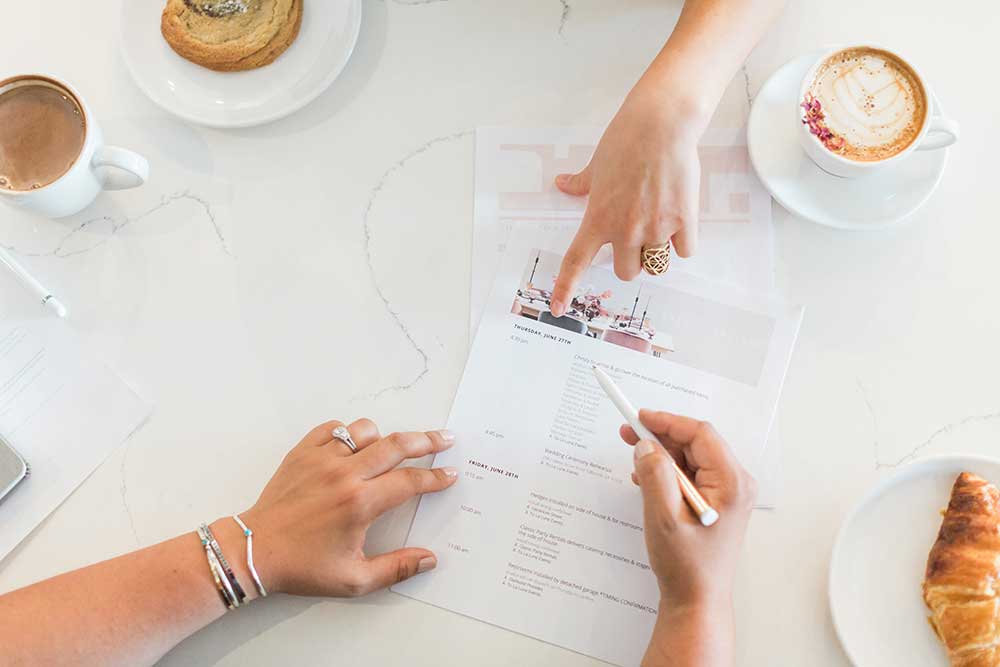 Wedding Planning Services
Full and Customized Wedding Planning also available – contact us for details
"Month of" Wedding Planning:  $2495
This is a great choice if you have already found your venue and some of your vendors…
Before the Wedding Day…
We will start working with you as soon as you book!
Unlimited contact via email from the time of the contract. Monthly meetings may be scheduled via Zoom or phone anytime before the wedding ~ We are always here for you! Unlimited meetings via Zoom the month before the wedding to ensure that every detail is considered
Review all your vendor contracts as needed to understand exactly what and who will be arriving day-of.
Recommend any services that you may have not thought of or ideas that might help make your day extra perfect
Identify any missing pieces to the wedding day that may have been overlooked but are essential to run smoothly.
Timeline creation for vendors and the wedding party. We will keep everyone in check!
Venue walk-through to go over the details and logistics of the wedding day
Vendor management – we will coordinate with all contracted wedding vendors and confirm services booked, their arrival times, meal counts, and any other important details, at least 1 week prior to the wedding.
Run the Rehearsal and make sure everyone knows where to be and what time to arrive on the wedding day
Set up weekend activities for you and your guests
Rehearsal Dinner Coordination
Coordinate with the wedding party: the logistics for any pre-ceremony appointments (hair and make-up)
Collect all of the items for the wedding (decorations, marriage license, etc.)
On the Wedding Day…
Professional Wedding Coordinator on site for up to 10 hours on your wedding day.
Ensure your wedding party knows where to be and is on time
Greet wedding vendors and be the point of contact the day of your wedding ~ this way no one is bothering you with questions or concerns!
Check venue set up, making sure ceremony and reception are set to perfection. Fixing any errors that may come up.
Set-up and styling of all wedding elements ~ (Escort cards, favors, guest books, table numbers, etc.)*
Distribute bouquets & pin corsages to the bridal party, attendants & family members.
Wedding Day "Emergency Kit" provided for emergencies
Direct ushers and helpers with seating and program distribution.
Assist with the wedding party and family photographs.
Distribute final payments & gratuities as needed to vendors.
Retrieve wedding gifts, cards, and decorations that you want to keep at the end of the evening.