Did you get your picture taken at one of our events?
How about a Photo Booth?
Photo booths are one of the hottest trends in weddings and parties today. If you are getting married you've seen the ads in all of the magazines. Whether you are planning a wedding, corporate event, mitzvah, party, or school dance, a photo booth will add excitement and lasting memories to your event.
The options for seating and backdrops are endless. Photo booths can take group shots of up to 10 people at once! With green screen capability, you can take your picture "in" a Gondola or in front of Buffalo Mountain. Then, have your guests put their pictures and personal notes in a beautiful scrapbook. It will be a treasured keepsake for years.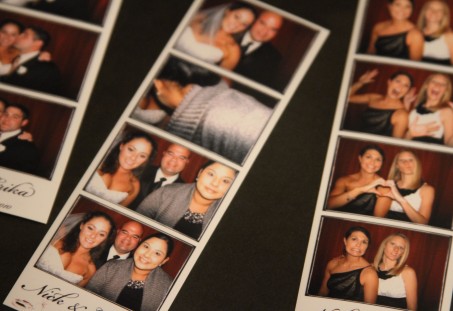 Client Testimonial
We used Hampton Entertainment for our photo booth (even though it says DJ since photo booth was not an option to select). Courtney (the owner) and Sarah (the DJ who managed our photo booth for the evening) are both absolutely fantastic. Sarah went around to every table to remind guests about the photo booth. They were so responsive, accommodating, fun, and helpful (and we used a lot of vendors for the wedding, so we had a lot to compare). Our guests had a blast too (we debated on whether we should have a photo booth or not – and man, we are glad that we did!!). We highly recommend using their guest book service as an add on to the photo booth – you get copies of all the photos plus special messages from your guests. They do a really nice job putting a really high quality book together for you.

– Rachel