Our company was growing and we needed to hire some more great DJs but it takes a long time to train someone. I was at the point where I needed to find the right fit for our company but was starting to think that it wasn't going to happen any time soon.

Then in a rare serendipitous moment, I had the extreme luck to meet this amazing lady. I was DJing at the Maggie in Breckenridge for happy hour one day. Every time I played there, this one employee would be dancing and singing and having a great time. She was just full of energy and was ready to get the party started. One day we were chatting and she mentioned that she was a Wedding DJ in the Midwest where she used to live. So, I decided to take her as my assistant to a few weddings and other events.

With her  passion for music and positive energy we couldn't believe how amazing she was! She is not only an incredible DJ, but her love for music and entertaining make her the perfect choice if you are looking a fun, entertaining  party.

– Courtney
Hi, my name is Felicity! My passion in life has and will always be music. My love for  music has been a part of me since I was a child. I hail from the Midwest. For 10 years I DJ'ed and MC'ed all over Missouri.
Book Felicity to DJ your Wedding!
Three years ago, I started my new life out here in Summit County, Colorado. While working at my winter job at the Maggie in Breckenridge, I met Courtney of Hampton Entertainment. She was DJing one of our live music days and we hit it off. I started working as one of her assistant DJs and soon became one of her head DJs.
Music if life. That's why our hearts have beats.

– Cecily Morgan
I love DJing weddings and helping my couples have the best day of their lives. I have an extremely wide variety of music tastes and strive to make your event run as smoothly as possible by taking the stress off you and helping out wherever I can. My goal is to make your event one and your guests won't forget.
When I'm not DJing, you can find me snowboarding on the mountain, winning pool tournaments, or hanging out with my little guy Phillip.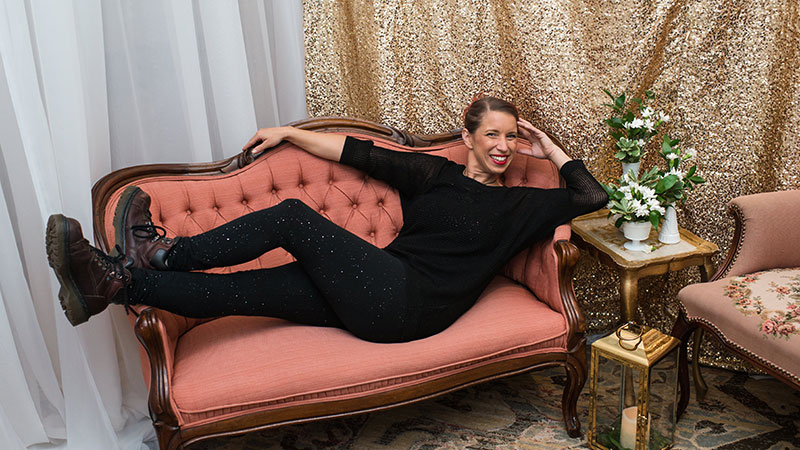 Client Testimonial
Hampton Entertainment was great!! Felicity was an amazing DJ. She was familiar with all of our eclectic music from 70's oldies to 80's new wave and ska and more current dance numbers. She even was great with our Reggae, Reggaeton and Latin selections.

Felicity also came by before the event to be sure that she understood our plans for the reception, our taste in music and to be sure that she could find the best place to set up. She really went above and beyond in terms of service.

Alan – Breckenridge, CO
Felicity Featured in Mobile Beat Magazine!
www.mobilebeat.com (page 14)