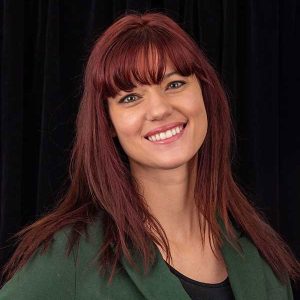 Anna has been with us for several years. What I love about her is her sweet, calm, but confident demeanor. Because she comes from a karaoke background, she is extremely comfortable and polished when making announcements.

She started out as our photo booth operator but quickly moved into assisting my head DJs at weddings. Since then she has DJ'ed and MC'ed corporate events, weddings, festivals, and multiple family friendly events at Keystone and Beaver Creek.

It's great to have a entertainmer that is already trained on the mic and has this incredible energy and enthusiasm for people that makes her an excellent DJ for any event.

– Courtney
My name is Anna Alford. I have been DJing karaoke for 4 years now and have branched out to DJing other events in the past two years, and I absolutely love it. I have worked in all sorts of industries over the years from retail to restaurants to housing; but music and singing are truly my passions. The most rewarding thing about DJing is hearing from my customers how I made their night and watching customers transform into friends as they come back each week.
As a karaoke DJ, my job isn't just to run equipment, it's getting the crowd excited, providing a bit of comedy in between songs and making everyone feel welcome.
Music gives a soul to the universe, wings to the mind, flight to the imagination and life to everything.

– Plato
When DJing events, I love playing music from all decades. The classics became classics for a reason! Music is for all ages; it's important to me that everyone enjoys the night and gets to experience a bit of nostalgia along the way.
In the past, I have catered weddings and run photobooths, but my favorite part has always been when the dance floor opens up. When I was catering, I was singing and dancing in the kitchen. I'm excited now to be able to create those amazing memorable moments as a Wedding DJ.